Philippine-Link #43534 (D)

Philippine-Link #43534 Wires-x room is the C4FM amateur radio link to the Philippines and Filipino amateur radio stations worldwide. It is hosted by Grupong Magellan WA6GM / DX1M / VA3GMO, a group composed of professionals and licensed amateur radio operators.
The primary mission of this Wires-x room is to promote camaraderie and service to fellow hams using the C4FM and Yaesu System Fusion technology. Its priority is clear voice communications via C4FM digital data.
In emergency cases, the Philippine-Link #43534 room is used to relay messages in and out of the country and reach amateur radio stations all over the world.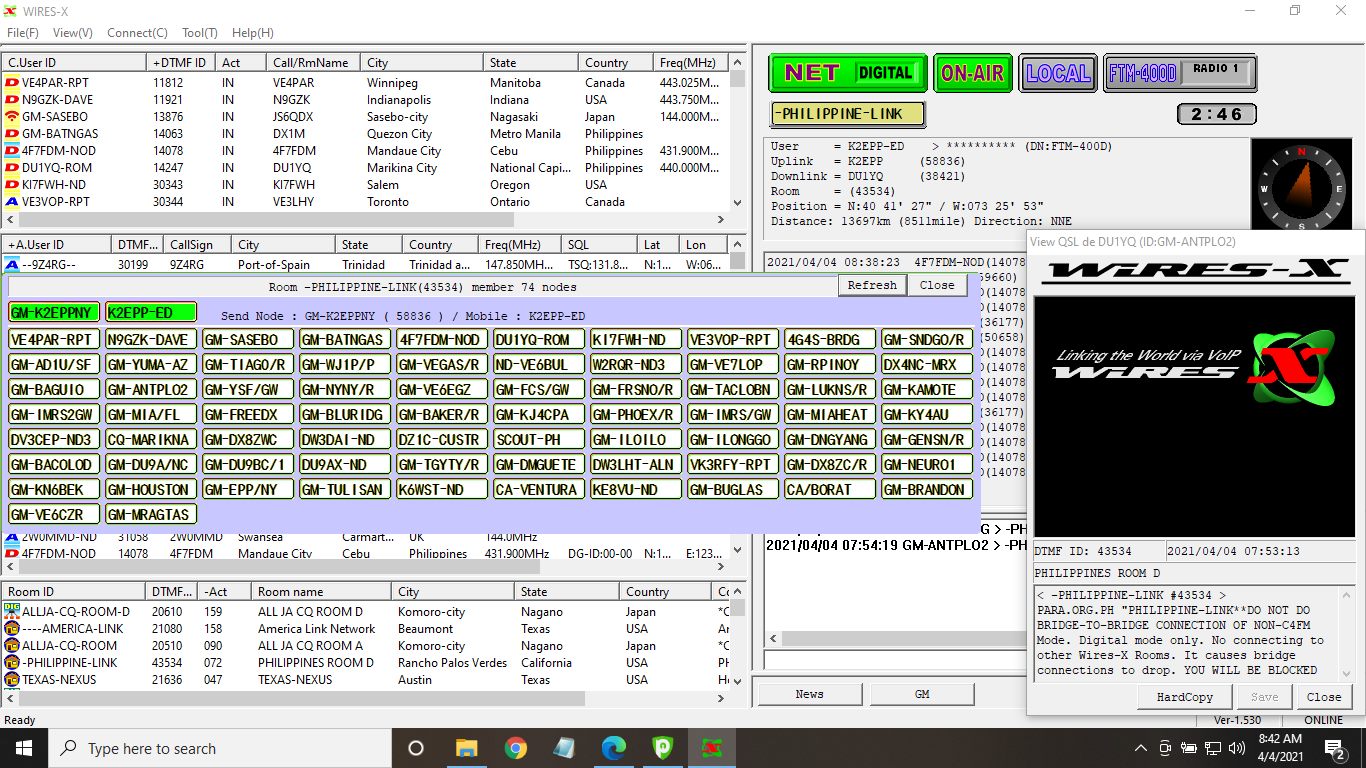 C4FM/System Fusion II Weekly Wires-X Net
Philippine-Link (D)

Wires-x Room: #43534
Reflectors: FCS 04-88, FCS 03-22, YSF 03073
Philippines: Sundays, 8:00AM-10:00AM
USA PST: Saturdays, 5:00PM-7:00PM
USA EST: Saturdays, 8:00PM-10:00PM
---
---
Rules:
Be nice, be courteous, be respectful of everyone, have a great patience.
Feel free to use your own language and dialects.
Leave enough gap between your transmissions. It gives others a chance to join the QSOs. 2-5 seconds is the recommended gap.
Do not bridge or connect non-C4FM devices to Philippine-Link #43534 (D). Cross mode is allowed in our second room Philippine-Link #21668 (A)
Let's enjoy the hobby together.
The Philippine-Link 43534 Room is powered by WA6GM Network along with the supporting FCS, YSF & XLX bridges as well as reflectors. Management, maintenance and technical support by provided by WA6GM GeekWorks!